Bio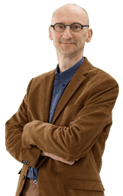 Philippe Naert (Antwerpen, °1963) vatte zijn studies Geneeskunde aan aan het LUC te Diepenbeek en zette deze vervolgens verder aan de UIA Antwerpen, waar hij in 1991 afstudeerde. Ook zijn verdere specialisatie in de Orthopedie volgde hij aan de UIA. Nadien vervolledigde hij fellowships in Adelaide (Australië), Omaha (USA), Massachusetts (USA) en Zurich (Zwitserland).
In 1997 startte hij als staflid van het AZ Middelheim met als specialiteit bovenste lidmaat – traumatologie – medische expertisen.
In zijn hoedanigheid van arts schreef hij enkele publicaties voor het Journal of Shoulder and Elbow Surgery. Daarnaast is hij founding member van de PSH en lid van BELSS en BOTA.
Dr. Naert is gehuwd met Annick De Koninck.
Specialisaties
Schouder
Pols & hand
Elleboog
Traumatologie
Sportletsels
Locaties
Gewrichtskliniek
ZNA Middelheim